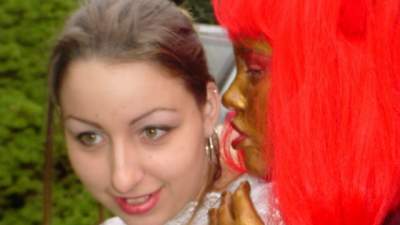 Starring the following model:
"Sahara is a good sport but she's full-on pissed about the paint!"
| | |
| --- | --- |
| File count: | 2 |
| Total size: | 16.87 MB |
| Released: | 6/19/14 |
| Views: | 2622 |
| Scene ID: | 10487 |
| Producer: | wamfgcom |

$1.50



Sahara is having her beautiful wedding album started with early bridal photos. Nice dress, hey? It cost her Daddy a tiny fortune, and here's how it all goes down...

She's looking so sweet with all her wedding dreams wrapped around her, but the hot little Devil appears in those dreams and whispers sweet lusty thoughts. They are all too carnal for her virgin ears and she refuses to hear! The Devil is determined to keep Sahara to herself and demands that Sahara does not marry. Sahara turns to leave, and when she does so, the devil grabs her hard, leaving her mark! "Oh," cries Sahara, as she's marked again, "You've ruined my dress!"

"Not quite yet", snarls the Devil, and slams Sahara with great balls of color! Sahara struggles with the Devil and struggles herself right to the ground! She's handcuffed and eternally spattered, so she rips the Devil's bra right off... but the Devil has not convinced Sahara not to marry.

Sahara tries to crawl away onto a magic carpet and plugs her ears from these roaring words and threats. The louder the roar the harder she plugs as the Devil spews with profanities and paint balls!

She suddenly realizes there is sticky, runny spew on her. It's house paint! Now some serious shit is going down and the real cat fight is on as Sahara cannot se. her eyes have to stay shut and the Devil is really smearing it in to beat Hell! (pun) Sahara is a good sport but she's full-on pissed about the paint! When she gets the paint in her mouth she's right-mad, and slams the Devil with the Devils own Goo... which helps her to free herself for a moment.

She is soon met with a blast of cold water... at least she thinks it's water, she knows it's freezing cold... brrrrr...

Even her little socks and teddy... Full-on STain! Wwoooo, and still we wonder if she was ever convinced... will she still marry, wearing this dress...? or maybe her dearest Daddy has a fit but still buys her a new one.
Includes these files:
markofthedevil-story.txt

text file

1.94 KB
markofthedevil.zip

640x480

248 photos

16.87 MB

sizes may vary

Report
Similar scenes
2 files

2 files

3 min

2 files