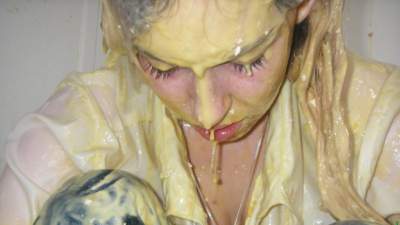 Starring the following model:
"She slowly covers her jeans till she feels the pancake mix seep through."
| | |
| --- | --- |
| File count: | 2 |
| Total size: | 27.33 MB |
| Released: | 12/20/11 |
| Views: | 5380 |
| Scene ID: | 3334 |
| Producer: | wamfgcom |

$2.50



Meet Tifany! This young lady is 25, Blonde, tender, slender and built. I think Tifany is the cutest girl next door 'round the corner, she's a bit shy at first... her humour is warm and wam-inviting. She's bright and witty. Tifany came over in the morning, for breakfast, but I didn't know what to cook. I kinda decided to WAM her on camera rather than my other guest, Shredder, on this special first-meeting-of-Tifany-day. (sorry Shredder)

Tifany wears a casual white zippered blouse with oversized cuffs in a right-nice material, and her own favorite jeans... I just love how well they fit. She has a nice can of fruit-cocktail to mix in with her pancake mix, she wants variety! Her licorice-strappy shoes just can't wait for a dip into the freshly mixed bowl of breakfast Her toes wiggle as she giggles, digging through the lumps and admiring her feet. She soaks up this new experience very well, and then she's slowly covering her jeans till she feels the pancake mix juices seep through... a little more. "oh" she teases... I could do this allll day..". as she fills up her lap. SinSational! She's got ammunition! Out come the eggs, one by one, two by two, cracking repeatedly over her head for the cool clear slime and gluckky sticky orange yolks. She's going for the feel, checking out the fabric reaction and looking for any spots she's missed. Just as we'd hoped, sweet Tifany wants more! We won't have to beg this girl to get messy, she's a freakin' wammer!

Images are 1200x900 pixels.
Includes these files:
breakfastwithtifany.zip

1200x900

210 photos

27.32 MB

sizes may vary
story.txt

text file

1.49 KB
Teaser thumbnails:

Report